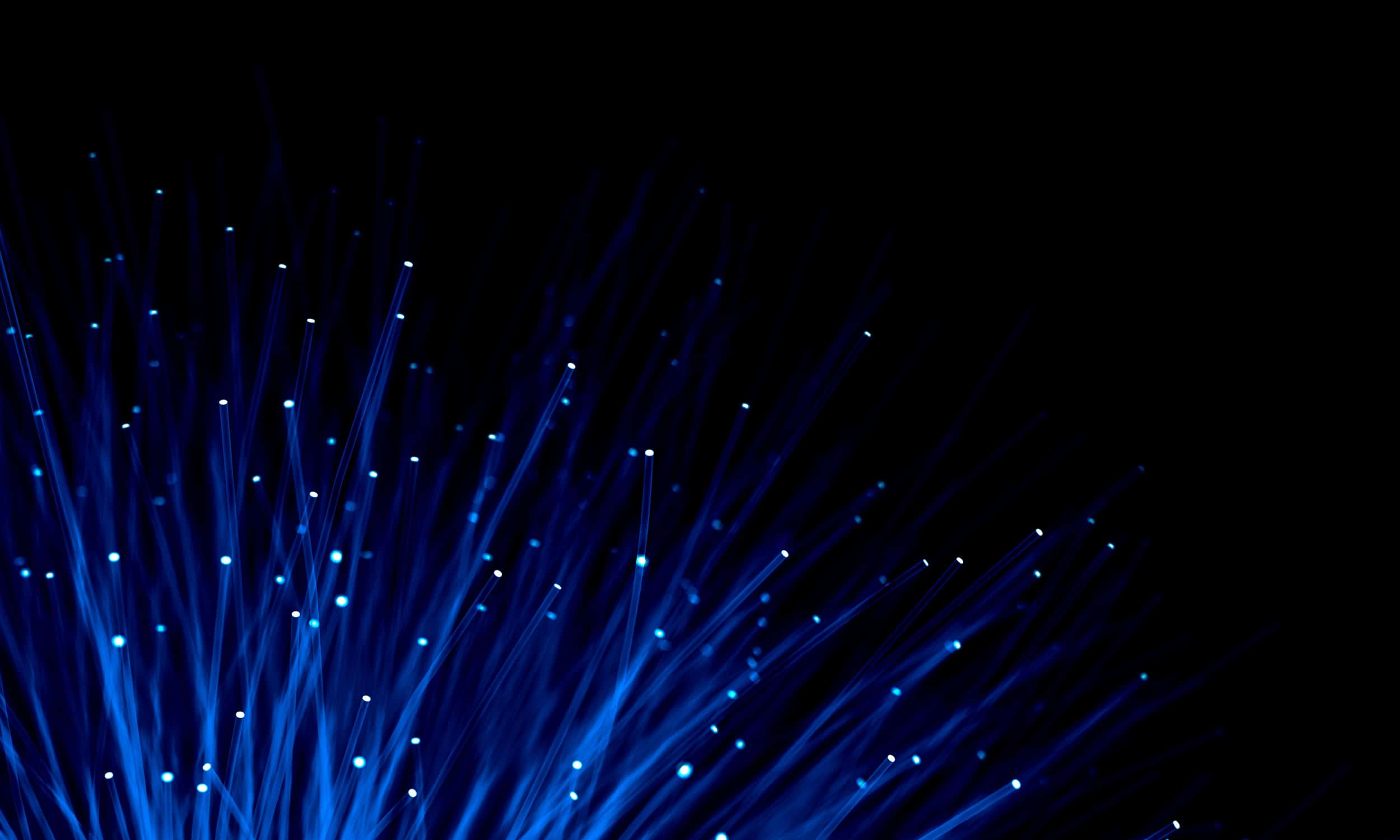 Intelligent quality is always the better one.
Detect potential faults early and avoid downtime? Our solution based on artificial intelligence takes your quality assurance to the next but one level by monitoring, documenting, and assessing quality processes around the clock and displaying preventive measures with pinpoint accuracy.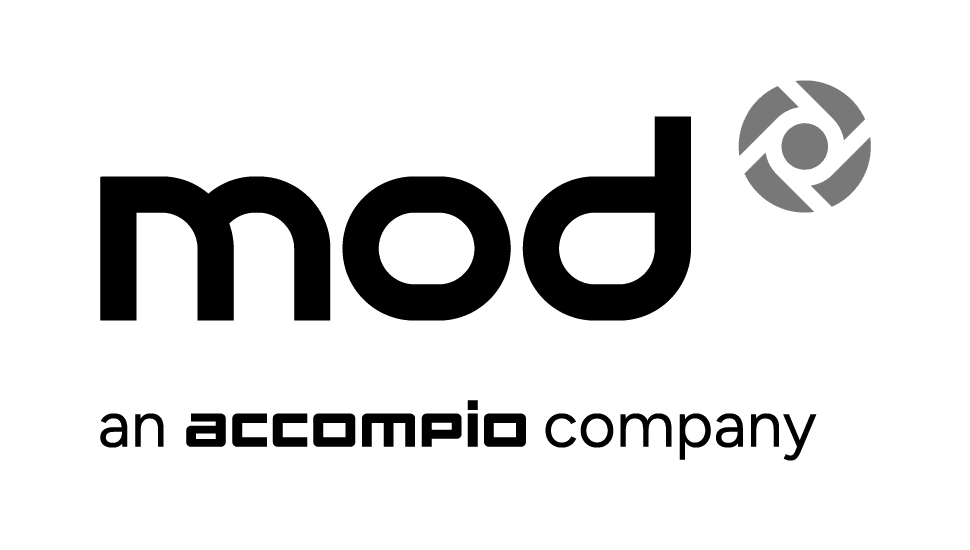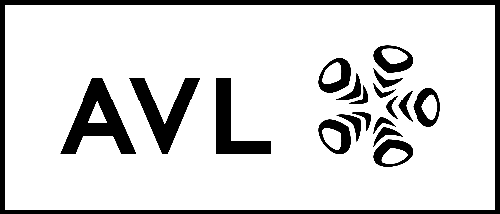 Recognizing patterns through intelligent cluster analysis
Intelligent quality forecasts secure your future advantage
For companies operating under particularly stringent conditions, the challenge is to assess recurring events. These include industries such as banking, insurance, and pharmaceuticals, which must always ensure the highest security and quality in their complex production or payment processes. 
Within milliseconds, our Predictive Quality solution matches deviating events with results from the historical database. It thus supports your responsible employees in quality management by providing concrete information updates. This allows your team to make more informed decisions and take preventive action.
The symbiotic collaboration between humans and machines leads to intelligent quality assurance that creates sustainable added value through optimized processes.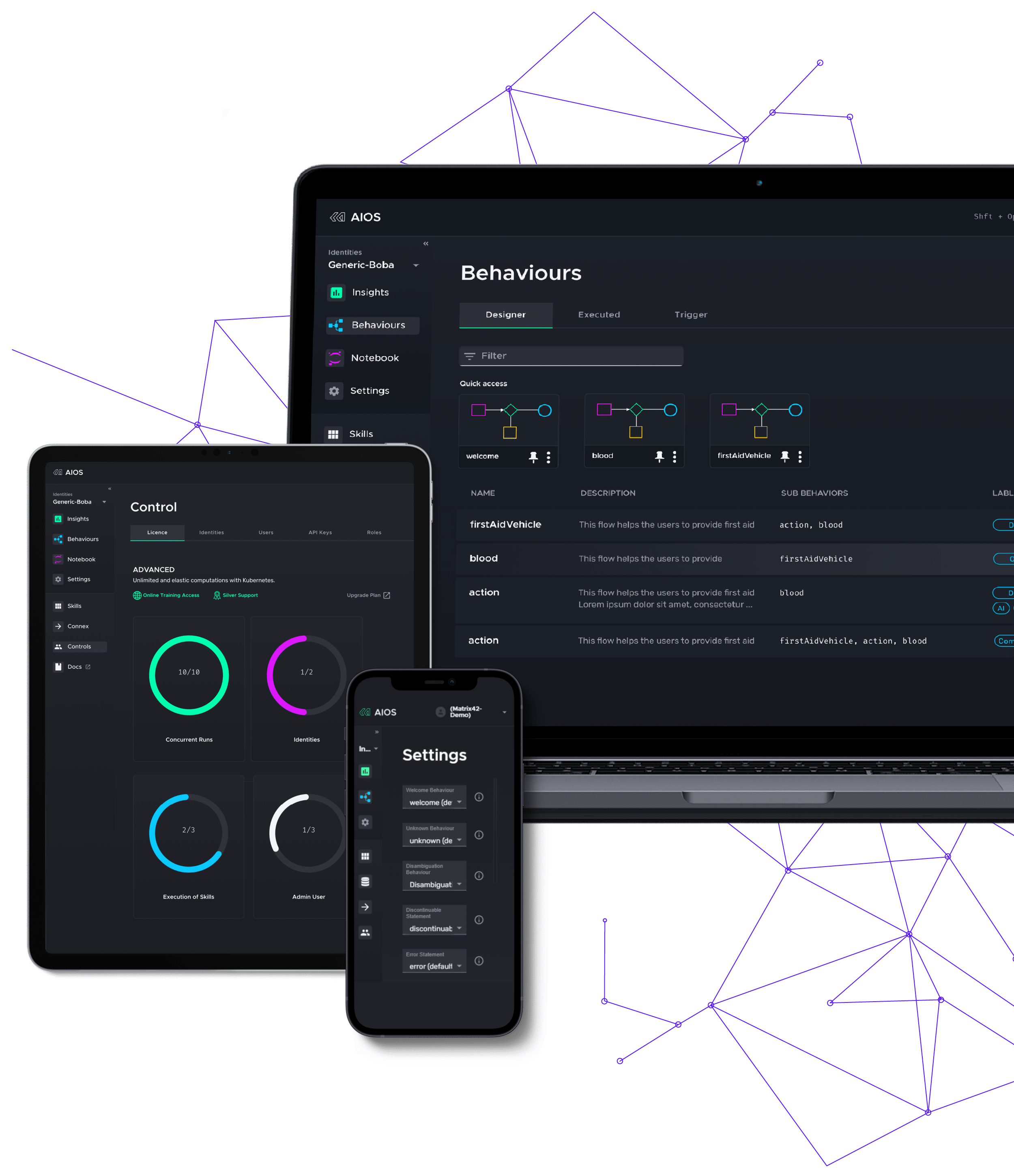 Predictive quality in figures
Faster search performance
Entries searched per second
Classify quality processes intelligently
Wise forecasting: Historical data provide reliable projections for the future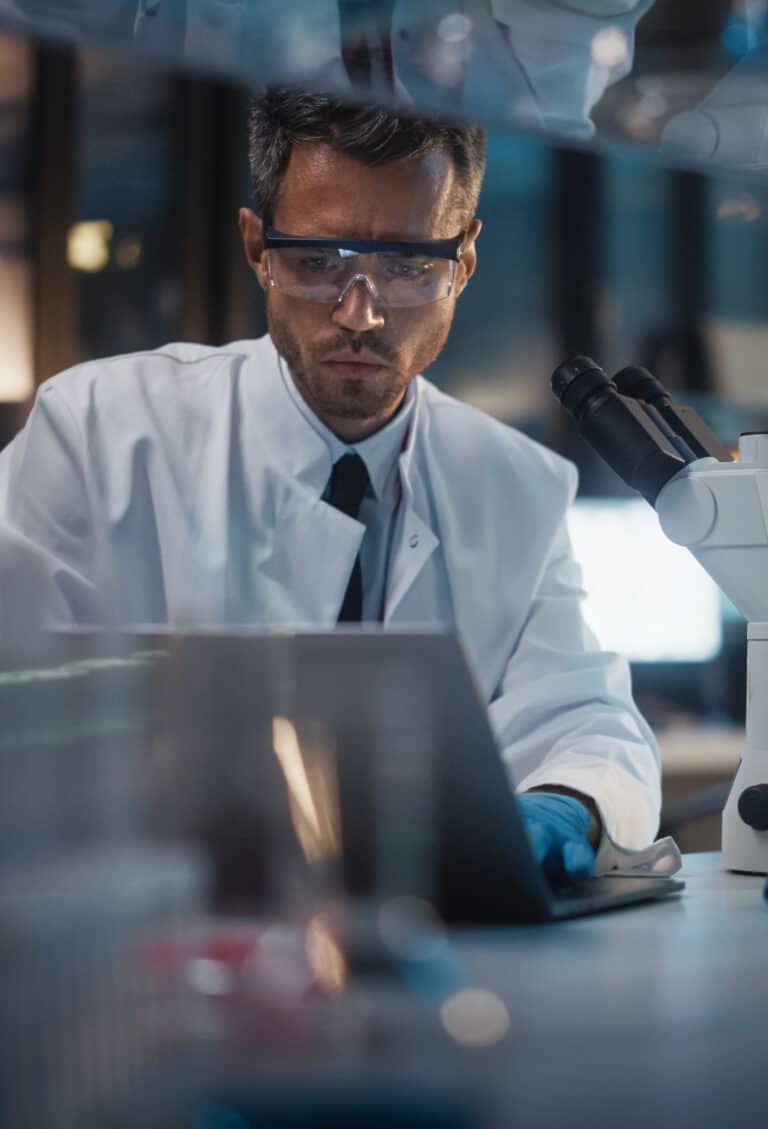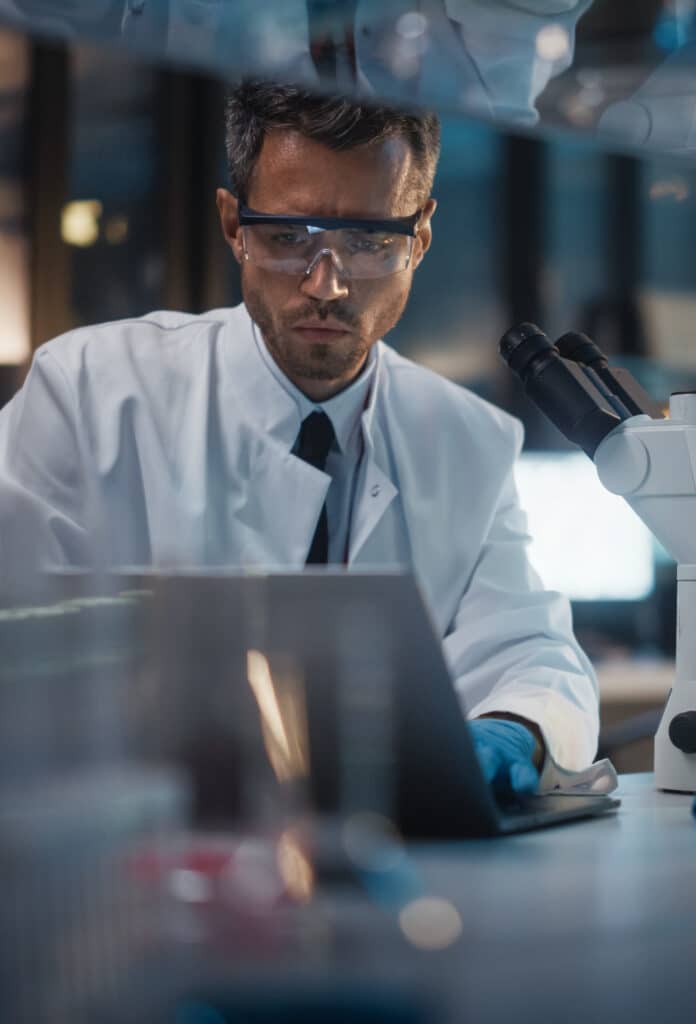 Your advantages at a glance
Faster & safer decision-making
Efficient processing time
Individual assessments
Cost-effective validation processes
Integration into existing processes
Shorter information paths through comprehensive digitization
When things run like clockwork
Efficient quality processes are powered by these 6 AI features
Cluster Analysis
#deepai #patternrecognition
Machine learning models enable humans to understand correlations of quality deviations in a matter of minutes that would be impossible, or, without AI, would require a great deal of effort to identify.
Classification & Routing
#classifier #ridge_regression #tf-idf
After analyzing the text, the artificial intelligence recognizes the content and uses multi-classifiers to assign the customer request to the correct business process. Next, it immediately forwards the emails to the right departments.
Semantic Search
#pre-processor #semantic_understanding #fast
On the one hand, semantic correlations can be used to compare documented deviations of the past with current deviations, or to use them as a documentation aid.
Custom Integration
#ux #ui #cd
In order to use AI as efficiently as possible, it can be integrated into existing IT processes and systems with a familiar look and feel. Whether on-premise or cloud infrastructure is irrelevant.
Digitization of processes
#i4.0 #iot #paperless
If digital data are not yet available, then analog documentation can be digitized. Thus, the AI is provided with a database. Rule #1: The sooner you start collecting the data, the better.
Reference book
#efficiency #documents #wiki
There are many important documents on process instructions. AI makes it possible, at any time, to find and consult the right document to be able to comply with quality standards.
Human and artificial intelligence complement each other
Increase quality level: AI supports your QM strongly in decision-making. 
Production is a complex process, and deviations are unavoidable.
The competitive advantage, therefore, lies in being able to classify deviations (events) adequately and rectify them quickly and, thus, ensure efficient quality in the long term.
The AI-based Predictive Quality solution provides quality management with a pre-classification of an event. This is based on former events at the production lines as well as textual descriptions of the employees. From now on, previously unstructured information will provide valuable and comparable data records as well.
This data-based analysis of AI enables your QA manager to make more informed decisions and initiate measures for the validation of processes at an early stage based on trustworthy predictions.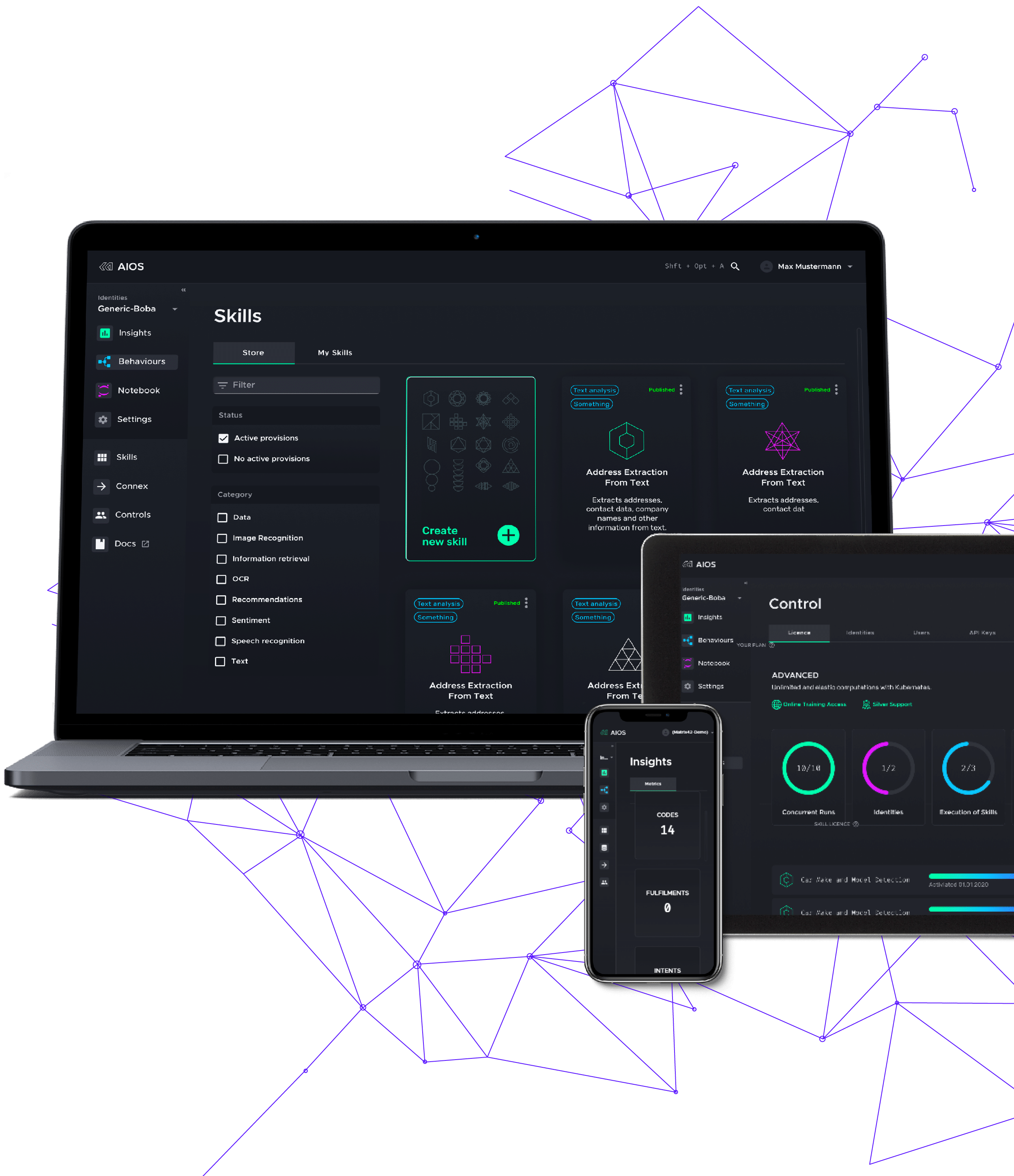 You too can benefit from the advantages of AI-supported Predictive Quality. Request a non-binding personal consultation with our AI experts now.
Our AI application adapts to your needs and integrates easily with your software infrastructure.
Business value is created only with the right software integration into your infrastructure. The AI-as-a-service concept makes the integration of artificial intelligence simply easy, which is done via defined and standardized APIs.
Our AI solution runs on AIOS, our AI platform. No matter which services you want to use and interconnect with other applications within your infrastructure, AIOS will make it possible.
Support from start to finish and beyond
We take care of a smooth integration into your infrastructure and are also available for you around the clock, thereafter.
Hosting & Operations
AI Platform AIOS
Service & Support
Hosting & Operations
Our three hosting variants:
Public Cloud: As AI-as-a-Service provider we guarantee 99.9% availability –
dynamically scalable with shared resources as a cost-effective variant 
Private Cloud: Data secure hosting in a private data center
OnPremise: Integration into your internal infrastructure is possible as well
You decide, we deliver – with our AI platform, up and running in just 30 days! 
AI Platform AIOS
Service & Support
Any questions about the AI Solution we just presented? Let's talk about it.
To respond to your request, we process the data you'll provide in the form to the right. Thank you for taking the time to fill it in!
You can revoke your consent to this at any time. Please refer to the confirmation email and our privacy policy for more detailed information on data protection.
Artificial intelligence starter kit
Your companion with expert knowledge: We facilitate your entry into the AI world!

The three-step AI starter kit from Leftshift One enables your company to easily find its own AI solution. The 360° Company AI Check assesses your company's AI potential and thus offers the perfect start. If you are already clear about this, a thorough data analysis (Private Data Audit) sets the course for the final step: Together with your team, our AIOS Task Force will develop a custom AI application in a 48h-Datathon. 
Decide how you want to get started. But: Start your AI future now!